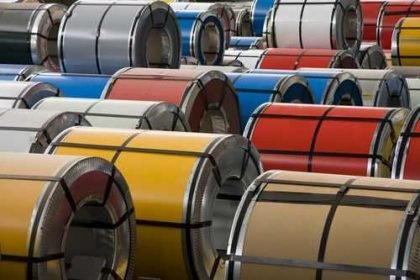 Coated Steel- an Introduction 
When the steel surface is coated with an additional layer of organic or metallic materials to protect from rusting, is called coated steel. Usually, a coating layer is added to flat steel when they are in a coil form.
Coated steel can be categorised into three broad categories: metallic coated steel, organic coated steel (non-metallic) and tinplate. Coated steel is used in applications where corrosion resistance, aesthetic appearance or food safety is essential.
Types of Coated Steel
Metallic coated steel
Metallic coated sheets are corrosion resistant steel coated typically with zinc in pure or alloyed forms. The process of zinc coating is known as "galvanising". Most steel companies use Hot-dip galvanization (HDG) process but there are other methods depends on the required material properties.
Hot-dip galvanising is a process of coating steel with zinc or zinc alloy by putting steel in the bath of molten zinc or zinc alloy. The molten bath is prepared above the melting point of zinc or zinc alloy ranging around 820-860⁰F.
The molten bath is used with a combination of a number of surface preparation steps like caustic cleaning, rinsing, pickling, flux solution dipping and drying. The molten zinc (Zn) forms a metallurgical bond with Iron (Fe) during coating. The zinc then reacts to external oxygen and carbon dioxide to form a strong protective coating of zinc carbonates.
Electro-galvanizing is another method used for metallic coating. Electro-galvanizing produces a lower thickness of Zn or Zn alloy coatings compared to batch or continuous hot-dip galvanizing. It is also a cost-effective method for applying zinc coatings on small and intricate shapes like fasteners.
Other metallic coating methods include thermal spray (or metallising), sherardizing and thermal diffusion, mechanical plating and zinc-rich paints. These methods have nominal commercial significance in the coated steel industry.
Types of Metallic Coated Steel
Hot-dip galvanized (HDG)

Electrogalvanized (EG)

Galfan

Galvalume

Aluminized
Organic Coated Steel
Organic coated steel is coated with non- metallic materials mostly paint. It is also known as pre-painted galvanized iron or PPGI. Substrates of the PPGI are usually the hot-dip galvanized steel. Its main applications are lifts, furniture, ceilings, decorative partitions, electronic housings etc.
PPGI are produced on continuous lines which involve a number of surface cleaning and coating steps in a controlled environment and baking at high temperature.
Paints are usually of two types. Polyester paints coatings which are used mostly in roofing and industrials sheds. Polyvinylidene fluoride paint or PVDF is another type of PPGIs.
PVDF painted sheets are expensive compared to polyester paints but gives high impact and scratch resistance. PVDF coating has a long anti-fading, anti-ultraviolet performance in harsh atmospheres. It is used in applications susceptible to high corrosion and wears and tears.
Tinplate
Tinplate is made by coating tin on the cold-rolled steel. Annealing and tempering process is used to prepare a cold-rolled sheet for tinning. The tempered steel which is used as a substrate for tinplate is called "black plate". Tin is applied to the black plate through continues electrolytic bath. Tinplate is mainly used in food packaging applications such as food cans and drink beverages. It also has some limited applications in electrical machinery parts.
Selected Producers
Some of the selected producers in the coated steel industry:
Arcelor Mittal

Baosteel

China Steel Corporation

Essar Global

JFE Steel

JSW Steel

Kobe Steel

Nippon Steel & Sumitomo Metal Corporation (NSSMC)

NLMK

Nucor

POSCO

Severstal

Shandong Iron & Steel Group

Tata Steel

ThyssenKrupp

United States Steel (USS)

Wuhan Iron and Steel
Coated Steel Market Overview
The metallic coated steel market is driven by construction, infrastructure, automotive, engineering etc.  A galvanized roof sheet has an average life of 15 to 20 years while Galvalume has even double than that. Organic coated or PPGI demand is supported by the construction and infrastructure sectors in urban areas.
The construction sector plays a vital role as an end-user for metallic coated and organic coated steel. Growing urbanisation and rising population are developing new markets for coated steel products in the construction sector. Around 55% of the global population lives in urban areas, according to 2018 statistics of United Nation Department of Economic and Social Affairs. Urban population is expected to reach 68% by 2050 with the most increase to take place in developing markets in Asia and Africa.
The coated steel industry is dominated by metallic-coated steel which accounts for about 81% share in the total coated steel market.

New investments in the metallic and organic coated steel are being carried out mostly in Asia followed by the US. Chinese steelmaker Chengde is installing an HDG plant with 0.4 million tonnes/year capacity. JFE Meranti in Myanmar is constructing a 180k/year HDG and 90k/year PPGI plant. Both of the plants will be ready by the end of 2019. JSW's 300k tonnes PPGI plant in India is under construction and is expected to be operational by 2020. In Pakistan, International Steels (ISL) announced capacity expansion of 350,000 tonnes of HDG and 50,000 tonnes of colour coated steel.
The US capacity for metallic and organic coated steel is also surging after the imposition of section 232. Nucor's 500k tonnes/year galvanising plant was announced to be operational in 2019. Steel Dynamics (SDI) is planning to start the construction of 450k tonnes/year galvanising line capacity with an additional paint line capacity of 250,000 tonnes per year.
North-East Asia is the largest market with ~44% share in the global metallic-coated steel consumption due to high infrastructure and construction spending and its large automotive and manufacturing industries.
Organic coated or PPGI market trends are different from the metallic-coated due to limited end-use sectors. Europe is the largest market for coated steel due to its high applications in the construction sector.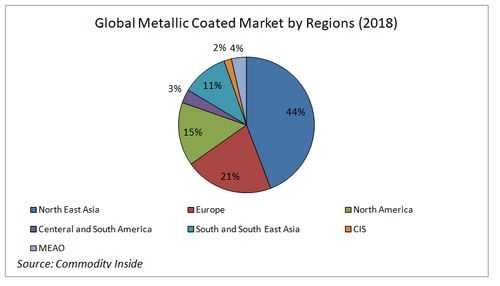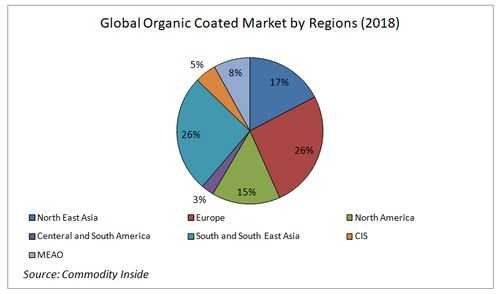 Food industry investments are mainly driving tinplate market. Regional population and food safety regulations also play an essential role in the demand for tinplate. The tinplate market is small compared to other coated steel products.  North-East Asia holds the largest share of 34% in the tinplate market, followed by Europe which accounts for 25% of global tinplate consumption.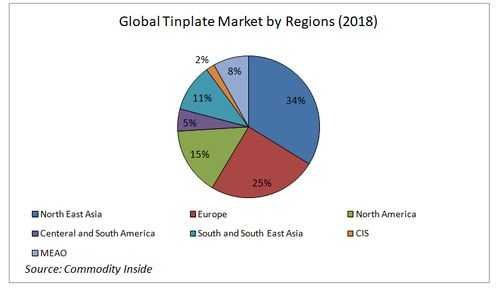 Applications of Coated Steel
Metallic coated steel is used in applications where the material has the potential to expose to the corrosive environment during application. Zinc coating on HDG sheets acts as a protector for steel due to its high corrosion potential.
The applications include air conditioners, vehicles parts, outdoor electrical boxes, laundry appliances, refrigerators, roofing sheets, wall panels of sheds etc. HDG sheets are also used in coastal infrastructures due to its vulnerability to a salty environment.  American Institute of Architect strongly recommends the use of HDG in the 5km range of coastal areas.
Metallic coated steel applications in the automotive industry depend on the regions. There is a disparity in the use of HDG in car bodies around different parts of the world. In developed markets, there are standards which enforce the use of HDG in car panels. However, in developing regions carmakers use alternative products to cut the costs.
In India, almost 3% domestic car contains HDG while the ratio reaches around 70% in Europe, Japan and North America due to the regional regulations and warranties. These regulations and standards started emerging in the 1980s when Japanese cars entered in the US market.
China, the largest car market, has minimal use of metallic coated steel in cars made for the domestic market. However, international brands in the country like VW and GM use the material for export-oriented cars.
Organic coated steel is used where aesthetic appearance required such as in construction and architecture. Tinplate sheets are used in the packaging sector particularly for making cans. Both organic and tinplate products account for a smaller share in the overall global coated steel coils market.
Would you want to explore this topic or any other research areas further, please contact us for FREE Consultations at Research@commodityinside.com