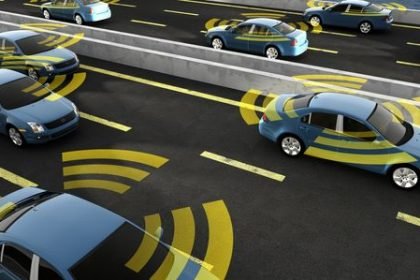 Background
C-V2X (cellular-vehicle-to-everything) is a type of V2X communications which was standardised in 2017 by 3GPP (3rd Generation Partnership Project).  3GBP is an organisation responsible for developing mobile telephony protocols. In C-V2X, the cellular network is used in vehicle communication instead of DSRC (Dedicated Short Range Communications). C-V2X  can use the same 5.9GHz radio channel as 802.11p. It uses SC-FDM (single-carrier frequency-division multiplexing) with semi-persistent sensing. The C-V2X has got more traction since the launch of 5G in various countries.
Key Developments
C-V2X seems to compete against V2X (with DSRC) as companies such as BMW, China Mobile, Huawei, Audi, Intel and Qualcomm are supporting C-V2X to make it as a standard way for vehicle communication. On the other side companies such as NXP, Volkswagen, Daimler and others have already been using DSRC for V2X communication and want it to be standardised.
The European Commission has recently overturned its decision to make DSRC WiFi as standard V2X communication and plans to draft a neutral new proposal for approval which would allow companies to choose from the available standards for their V2X communication. Most auto companies are in favour of such a neutral bill.
Besides, waiting for C-V2X to be a standard in Europe, many companies across the world are already working on it. C-V2X technology has been progressing in some key markets. For example, in Australia, the Advanced Connected Vehicles Victoria (ACV2), a project which is a partnership between Telstra and Lexus Australia, are testing the C-V2X on controlled tracks which would be later changed to urban roads. The trials are using two Lexus vehicles using the 4G LTE to connect cars directly with each other and with the traffic management centres via cloud servers. The 4G network is used for trials and is developed for connected vehicles rather than mobile phones. The focus on the autonomous features includes speed limit compliance warnings, emergency braking alerts, right-turn assist and warning for red light violation by other cars.
Moreover, the Australian company called Cohda Wireless has launched the hardware solution for C-V2X known as MK6C Evaluation Kit. According to the company, this kit will speed up the commercialisation of C-V2X. The kit is capable of 5G extension and can accommodate Bluetooth, CAN (Controller Area Network), ethernet and WiFi.
China is also progressing with C-V2X. One of its projects in Wuxi, eastern Jiangsu province, is a citywide LTE-based V2X project to double the coverage of the project by the end of 2019. The main project developers include China Mobile, Traffic Management Research Institute and Huawei. LTE-V2X networking provides real-time communication between different traffic elements and vehicles. The project covers 170 square kilometres of urban land in China with 240 intersections, which is expected to increase up to 400 intersections.
Huawei conducted a dozen of projects trials which included parking assist and emergency brake warnings (from nearby vehicles).  Furthermore, China Mobile also plans to share traffic details with various automotive companies which can help them in their on-going projects regarding V2X or C-V2X. According to National Development and Reform Commission of China, China plans to set up sensors and LTE-V2X solutions on 90% of the country's highways by 2020, which will make the public transport safe and lower the cost for autonomous vehicles hardware solutions.
The automakers such as BMW are also working on C-V2X and partnered with various companies around the world. BMW China announced its partnership with China Unicom, which will allow testing autonomous cars using 5G networks. It was the first partnership between a global automaker and the state-owned mobile carrier. BMW also plans to introduce 5G-enabled new models in China by July 2021, as a part of the deal with China Unicom.
Other automakers, for instance, Ford and Groupe PSA (Peugeot Citroen) formed a consortium with BMW, 5G Automotive Association (5GAA), Qualcomm Technologies, and Savari Inc, to work on C-V2X. The consortium completed its first live C-V2X communication by using vehicles from different automakers. The tests included emergency electronic brake light, intersection collision warning, stationary vehicle warning, signal phase, slow vehicle warning, signal violation warning, and unsafe road user warning (pedestrian). The vehicles used for trials included two-wheel e-scooters (by BMW), and passenger vehicles (by Ford, PSA, and BMW). Qualcomm 9150 C-V2X chipset solution was used in the vehicles for C-V2X direct communication technology. Savari was responsible for V2X software stack and application software, along with roadside infrastructure.
Although there are various projects and partnerships focused on C-V2X, they are still in nascent stages and will take time to be ready for commercial deployments. However, C-V2X seems to get more tractions than DSRC owing to its long-range communication as well as communication with multiple networks (like traffic management network) at the same time.  C-V2X is expected to be a more efficient way for vehicles to communicate with surroundings and would be more supportive for the future smart cities.
About Commodity Inside Automotive Industry Capabilities:
Commodity Inside has a number of off the shelf reports on the Automotive Industry. In addition to market reports, we also provide consulting and bespoke studies. Our initial scoping assessment is free of charge. So why not explore this excellent opportunity now by visiting our automotive consulting section.
Would you want to explore this topic or any other research areas further, please contact us for FREE initial consultations at Research@commodityinside.com