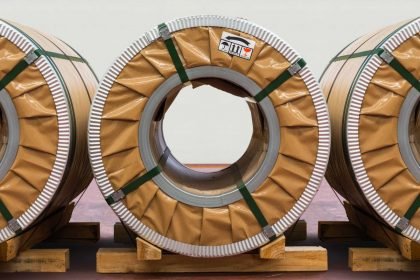 Flat steel- an Introduction 
Flat steel products are commonly known as steel sheet/coil and steel plate. These are categorised in various types including hot rolled coil (HRC), cold rolled coil (CRC), metallic coated steel, organic coated steel, coil plate and reversing mill plate.
Most steel plate is produced in the thickness range between 5mm and 80mm. Plates are overlaps with hot rolled coil at the lower gauges.  steel plates are of two kinds, reversing mill plates and coil plates. Reversing mill plates are produced by rolling slab back-and-forth and are relatively higher in thickness compared to coil plates. On the other hand, coil plates are made by rolling in tandem mills in a single direction.
Steel sheet/coil thickness is usually lower than 5mm. Steel sheet products also include hot rolled sheet, cold rolled sheet, metallic coated sheets and organic coated sheets. Hot rolling is performed at recrystallisation temperature of steel over 1700° F. At this temperature, steel is easy to deform. Following the cooling process, HRC provides less precision and relatively poor surface finish compared to cold rolled steel.
Types of Flat Steel:
HRC can be sold for various applications or can be further processed to make cold rolled coil. The cold rolling is performed usually at room temperature. It enhances the mechanical properties as well as surface finish.
CRC can also have a variety of applications mainly in construction and automotive. It can also be further processed to make corrosion resistance steel known as coated steel. Hot dip-galvanised (HDG) is one of the main types of metallic coated steel, which is coated with zinc to protect steel against corrosion by limiting its exposure to the external environment. Metallic coated steel can be further processed to make organic coated steel also knows as colour coated steel or pre-painted galvanised iron (PPGI).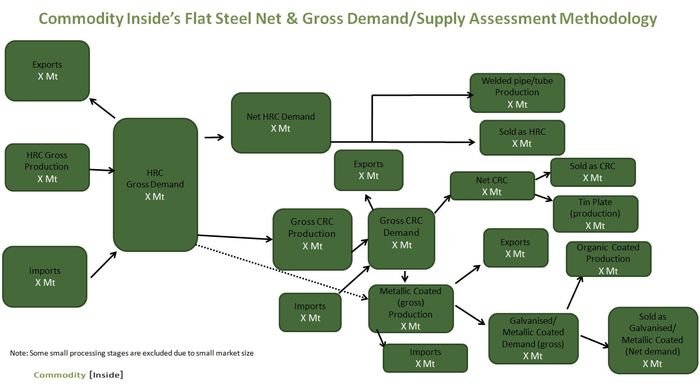 Some Selected Flat Steel Producers:
 Below are some of the selected flat steel producers in various regions.
ArcelorMittal (Luxembourg)

Baowu Steel  (China)

Hyundai Steel Co. (South Korea)

Nippon Steel & Sumitomo Metal Corporation (Japan)

NSSMC Group (Japan)

Nucor (US)

POSCO (South Korea)

SAIL (India)

SSAB (Sweden)

Tata Steel Ltd (India)

ThyssenKrupp (Germany)

US Steel Corporation (US)

Voestalpine (Austria)
Flat Steel Market:
Trade war distorted the flat steel market
The global flat steel industry is suffering from overcapacity especially in China which also leads to a surge in cheaper steel exports to major steel consumers like the US. In March 2018, the US imposed 25% duties on steel imports under section 232, which affected the global steel market and triggered a trade war across the world. US steel imports reduced by 11% during the first ten months of 2018 compared to the same period in 2017. The 25% duty redirected the trade toward other developed markets like Europe. Consequently, the European Union also imposed definitive safeguard measures on imports of steel products in February 2019. The safeguard measures included quota-based 25% import tariffs.
The US 25% tariff hit mostly Canadian exports, followed by Brazil, South Korea, Mexico and Russia, Turkey, Japan and Taiwan. China was not largely affected as the country was already facing some restrictions and accounted for only 2% in the US steel imports as of 2017. Some countries like Canada and Mexico were exempted later on. 
China continues to grow and steelmakers are taking the brunt elsewhere
China is curbing excess capacity mainly due to pollutions since 2016. However, the overall flat steel production in the country keeps rising. Steel companies are also restructuring, shifting toward electric arc furnaces or relocating to the areas where emission regulations are relaxed. We understand that new capacity additions are also taking place.  For instance, Chinese steelmaker Chengde Steels is installing a new cold rolled mill with 1 million tonnes continuous pickling line and a continuous galvanising line with capacity of 410,000 tonnes annually in Chengde, Hebei. This new cold rolling complex is designed for an overall output of 2.1 million tonnes per year.
Meanwhile, in early 2019, ArcelorMittal received approval to take control of Essar Steel in India. Essar steel is a major flat steel producer in India. ArcelorMittal also acquired Italian flat steel producer Ilva in 2018. The company plans to upgrade the Ilva plant to increase its capacity and sustainability.
Indian flat steel market to grow
India surpassed Japan as the second-largest steel producer after China, in 2018. India is on its way to add more flat steel capacity. The country set the target of 300 million tonnes of steel production capacity by 2025, though we understand that the goal seems ambitious. Tata steel has started working on a new cold rolling mill from mid-2018 at Kalinagar steel plant, Odisa, India. The initial production capacity of the mill is expected to be 2.2 million tonnes/year. The project is expected to be completed in 48 months. SAIL is also installing a new hot strip mill at Rourkela steel plant, which is scheduled to complete in 2019. It will have 3 million tonnes per year of hot rolling capacity.  
JSW is expanding cold rolling capacity from 0.8 million tonnes/year to 1 million tonnes/year. The company is also building a 300k tonnes/year colour coating line. India is also expected to increase its per capita steel consumption. It is also expecting to safeguard its steel industry from cheap imports. It also imposed anti-dumping duties on some flat steel products from China and the European Union. These duties are effective from 11th January 2017, valid up to 5 years.
Iranian flat steel market growth is restrained by the US sanctions
Iran is an emerging flat steel producer, though started facing US sanctions since July 2018. The sanctions came into force at the time when Iran's flat steel exports to Europe were surging high and various European companies like Voestalpine, Danieli, SMS, Fives, Sarralle and Outotec had planned for investment in the Iranian steel market. The US warned that those who trade with Iran will not be able to do business with the US.
The EU activated "blocking statute" on 7th August 2018 to allow EU companies to continue business with Iran. The blocking regulations by the EU softened the US sanctions impact and permitted the EU companies to recover their damages. Due to the sanctions, Iran is likely to heavily depend on China and Russia for its steel technology needs. Iran is not currently a major exporter of finished flat steel, though was an emerging major slab exporter before the re-imposition of sanctions.
Slow progress on the technology side
The steel industry is making slow progress with technology developments. It is trying to increase production in a cost-effective way. Sustainability is still a major risk for the steel industry. The Paris Agreement came into force at the end of 2016, stiffening the global greenhouse gas emissions regulations to maintain the global warming levels below 2°C.
The emission standards are encouraging the steel makers towards cleaner ways like the EAF route and recycling. Currently, BOF steelmaking accounts for 71% share in global steel production while the EAF accounts for less than 29%.  A very small share is still accounted for OHF. The EAF route has more potential to grow in matured economies like in the US as well as in China where scrap availability is making it more economical. However, BF/BOF is a preferred route to make flat steel compared to the EAF due to making better quality steel.
HIsarna method is also at an initial stage, which can tackle production and sustainability at the same time. It is an iron manufacturing process in which liquid iron is directly produced by reduction of iron ore fines with coal. The process could reduce 20% carbon emission whilst increasing production by 20% at the same time. The process can also reduce discharges of fine particles, sulphur dioxides and nitrogen oxide to a large extent. This method is mostly in the research phase. Tata steel is constructing its first pilot plant to test this method on a commercial scale.
Flat Steel Prices (cost side implications):
From the cost side, flat seel prices are mainly driven by iron ore (raw material) prices and slab (substrate for merchant/off-take agreement based buyers). In Asia, there has been aggressive competition from Russian and Indian suppliers of HRC, as well as subdued demand for finished steel in important slab importing countries, such as Indonesia, Thailand and Taiwan. This caused slab prices to fall much lower when compared to Brazilian prices. Meanwhile, the downward trend has also been restricted as slab suppliers refused to lower their offers much further, arguing that they would not be able to recover production costs.
The US buyers have started returning to the market while booking slab from Brazil by using the remaining annual quota (less than 0.5 Mt) in October. This has helped Brazil's export prices, which reduced its loss to just USD 5/t, from August levels. However, Commodity Inside assess that the exports quota is likely to be fulfilled in early October, as there are volumes currently stored in free trade zones in the US, waiting to be cleared.
Flat Steel Applications:
Flat steel is used in a wide range of applications. Steel plates are mostly used in shipbuilding. The shipbuilding industry is mostly based in North East Asia, and Europe is accounted for second-largest share. Steel plate production and consumption is also in line with the shipbuilding industry where North East Asia accounts for the largest share while Europe is at the second. Steel plate is also used in large-diameter steel pipes. Most pipeline construction projects are undergoing in North East Asia, North America and Europe. Construction projects especially steel bridges, skyscraper and infrastructure also consume a considerable amount of steel plates.
Hot rolled coil is the most used form of flat steel due to its lower cost compared to other further processed forms of flat steel types. It is widely used in the construction industry with applications such as roofing, staircases, sheds and welded structures. It is also used in machinery to manufacture parts, fabricated structures as well as used as a substrate for small and medium diameter welded pipes. Its other end users include packaging, railways and automotive.
Cold rolled steel is used mainly in automotive, including exterior body and interior parts. It is also used in appliances due to its high formability and dent resistant. Its applications also include products which require good surface finishing. Some of its end-use sectors are engineering, white goods, precision welded tubes, appliances, furniture, cabinets, toolboxes, shelving, light construction and industrial applications.
The automotive industry is reshaping itself due to various factors with the primary aim to improve profit margins. Steel is also substituted with aluminium and composites materials.  Some major automakers are relocating their production facilities while several are closing their operations. Meanwhile, new plants are planned and new geographical markets are emerging. GM is closing or relocating five plants in the US. Fiat Chrysler announced to move from Mexico to the US by 2020. Toyota and Mazda are entering the US. Ford is focusing on China for next models production, instead of North America. Harley-Davidson is moving out of the US and Honda to exit from Europe.
Following China and South East Asia, Africa has been emerging as a new market for automakers. BMW, VW, Nissan, Ford and Hyundai are now entered in African regions. We expect that relocations of automakers would have positive implications on the flat steel demand and can help develop the automotive supply chain in those markets.    
About Commodity Inside Flat Steel Capabilities:
Commodity Inside has a vast experience in the flat steel market. We have a number of off the shelf reports on the flat steel industry. In addition to market reports, we provide consulting and bespoke studies as well. Our initial scoping assessment is free of costs. So why not explore this excellent opportunity now by visiting our steel market consulting section.
Would you want to explore this topic or any other research areas further, please contact us for FREE Consultations at Research@commodityinside.com