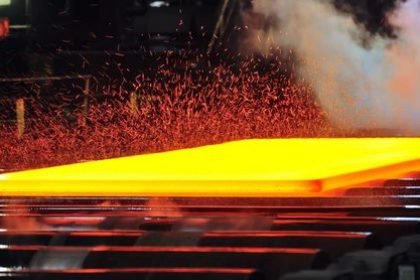 Novolipetsk Steel (NLMK) is one of the major steel companies which have been most severely impacted by Mr Trump protectionists' measures. Prior to the imposition of Section 232, NLMK was supplying around 2 million tonnes/year of slabs to its US subsidiary from Russia. Initially, the imposition of 25% duty was affordable for NLMK, owing to high flat steel prices in the US market. When HRC prices started sliding in the US, the opportunity cost of using Russian slab increased. NLMK has then started bearing the brunt of section 232.
Commodity Inside repeatedly published that it would be untenable for NLMK to play longer on high flat steel in the US and its low slab cash cost in Russia. It needed to tinker its slab deficit in the US through a combination of supply sources.
NLMK then started buying slab from Brazil, which is itself subject to a duty-free quota of 3.5 million tonnes/year. That entailed NLMK was sharing a pie with other US slab buyers including California Steel Industries (CSI). Slab has been proving Achilles heel for US strip mills, particularly those which rely on the imported slab.
It paid more for inflated Brazilian slabs, while its Russian parent company was to find alternative destinations for its excess slabs. It has also started sourcing some tonnages from Mexico, and reportedly from Canada. NLMK, along with CSI, Evraz USA and JSW Steel USA requested to the US government for exclusions. However, the United States Commerce Department declined most of these exemptions requests.
Evraz announced that in Q1 2019, it sold around 482,000 tonnes of slabs to third parties, up from 387,000 tonnes in the previous quarter. During the same period, NLMK doubled its slab sales to third parties to 1.1 Mt, mainly due to its limited supply to the US.
In the aftermath of section 232, NLMK managed around 1 million tonnes excess slabs, which was destined for the US, through maintenance in its slab casters in Russia. The supply reduction also nudged slab prices in the merchant slab market. Going forward, NLMK vulnerability would exacerbate after completion of maintenance works. Furthermore, its resumption of supply would likely to coincide with the installation of Metinvest's new continuous casting machine, which is going to add around 700,000 tonnes/year of the additional slab to the market.
Commodity Inside understands that NLMK still has a few options to reposition itself strategically. It just needs to look for the right partners on rights terms with mutual benefits. Commodity Inside extensively covers the slab market in its slab subscription report. Please feel free to contact to see the report or the live models in action.
About Commodity Inside semi-finished steel capabilities:
Commodity Inside has a vast experience in the semi-finished steel industry. Global Merchant Slab Market Outlook is one of its flagship market report. The subscription consists of monthly slab market updates along with three quarterly updates and one major report.