Steel Rail Overview
India's Jindal Steel and Power Ltd (JSPL) completed its first ever domestic order of 100k tonnes of rail steel for Indian railways this year. JSPL is the only private rail steel producer in India. Previously, SAIL was the sole supplier to Indian railways and produced around 0.98 million tonnes of rail steel in the fiscal year 2018-19. 
July 2018, was the first time that Indian Railways assigned its rail supply contract to a steel producer other than state-owned Steel Authority of India Ltd (SAIL). In the backdrop of demand for rail is surging and supply is restrained from SAIL, Indian railway initially contemplated to import rail steel but denied by the Indian Steel Ministry. It wanted to encourage local production.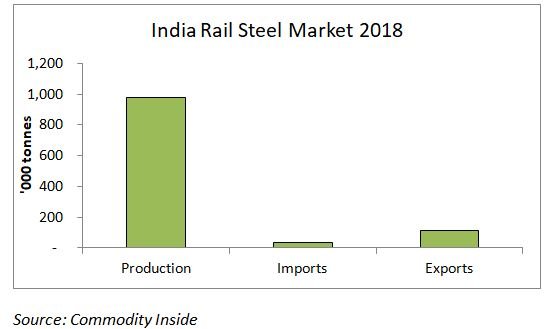 Steel Rail Outlook
In terms of route length of the railway network, India is the fifth largest country in the world with around  68.6k km route length. There are still some mega railway projects are in the pipeline which included the introduction of bullet trains and modernisation and replacements of tracks. Some projects have already been under construction. For Instance, the 487km Mumbai to Ahmedabad bullet rail project started in 2017, expected to be completed in 2023. Metro projects in Lucknow and Mumbai are some other major urban rail projects which are in the construction phases. Moreover, around 15,000 km track needs to be maintained/replaced by 2023.
Indian railways are expected to account for 40% share in global passenger rail activity by 2050, according to IEA. Indian Railways plans to upgrade 10,000 km tracks into high-speed rail over the next ten years. Moreover, the country is also planning ten new high-speed lines of about 6,000 km, set to be completed in the next ten years.
With the rising investment in Indian railway infrastructure, both SAIl and JSPL to be benefited, though there is potential for imported rail materials mainly from North East Asia and Europe.
Would you want to explore this topic further, please feel free to contact us at Research@commodityinside.com