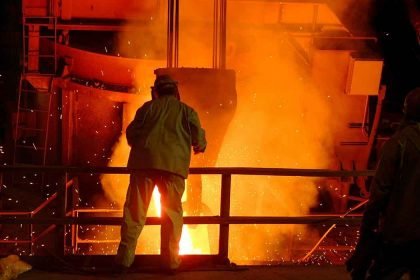 Why was stainless steel 300 series used in Starship?
SpaceX, a US-based private aerospace manufacturer and space transportation services company, has used stainless steel 300 series in its new Starship.  There are other relatively lighter materials such as aluminium and carbon fibre which could be substituted. However, SpaceX opted for stainless steel for various reasons including corrosion resistance and low costs.
Physical properties of using stainless steel
One of the reasons is the stainless steel amazing corrosion resistant properties and resistance to extreme temperatures. Stainless steel 300 also has much less thermal conductivity than aluminium and thus can resist the conduction of heat from its surroundings into the cryogenic fuel, preventing the vaporisation of the fuel.
Carbon fibre is highly expensive and complicated to fabricate. The layers of the carbon fibre must be developed in a very specific way to ensure that its exhibit strength in all directions which inflate the cost, whereas stainless steel has isotropic properties.
Other steel types get brittle at cryogenic temperatures, whereas this is not the case with stainless steel because of the presence of chromium and nickel, maintaining the strength and ductility at cryogenic temperatures.
Stainless steel outperforms both aluminium alloys and carbon fibre composites regarding the maximum operating temperature by a considerable margin. The high durability of stainless steel at a high temperature of around 1,500 degrees Fahrenheit also makes stainless steel an effective choice.
The commercial aspect of using stainless steel
From a commercial perspective, preferring stainless steel over carbon fibre has also been due to its lower cost particularly compared to carbon fibres. According to Elon Musk, the shift towards heavier types of stainless steel alloys is a way to keep costs down as stainless steel is about 67 times cheaper than the carbon fibre composites. It is also easy to work with stainless steel compared to carbon fibre to build such a sophisticated structure.
Furthermore, there would not be any paint applied on the outer surface of the Starship as it would become too hot for painting. The Starship would have a mirror stainless steel finish surface with maximum reflectivity making it highly resistant to heat.
Ultra-cold gases like cryogenic oxygen and methane might be used to propel the Starship through space. These cryogenic gases, when getting in touch with stainless steel, boost the strength of stainless steel by 50%
To learn more about this article or want to explore how we can help in your research, please feel free to contact us at info@commodityinside.com or Telephone: +44 (0) 208 123 7812.
We are independent and highly approachable experts available to support you.