Flexible plastic packaging market in Middle East & Africa grew by 6% on year-on-year basis in 2014, and reached nearly 1 million tonnes. Due to growing economic growth and improvement in transport and distribution infrastructure, demand for flexible plastic packaging has been on the rise as well as multinational brand owners are exploring the potential for local packaged products to satisfy the region's expanding needs.
The region has been dominated by major regional suppliers of flexible plastic packaging producers, while the presence of leading international companies is almost negligible. In GCC, majority of manufacturers and convertors are based in the UAE which satisfy demand for both domestic and regional consumers. The free trade zones, proximity to the region through ports and friendly government investment policies, UAE is witnessing high foreign direct investment.
Looking at the future of regional demand for flexible plastic packaging, Commodity Inside expects that a number of factors will drive the regional growth notably:
• Growing young population and increased urbanisation
• Changing consumer habits
• More employed women will reduce less time for cooking
• Food production and processing will see increased investment, mainly from China
• Increased investments in new capacity and expansions particularly from India
• Rising per capita income to support pre-packed food
• Homecare and personal care products will be widely used
• Plastic pouches get more coverage on the shelves
• Development of a retail system, especially hypermarkets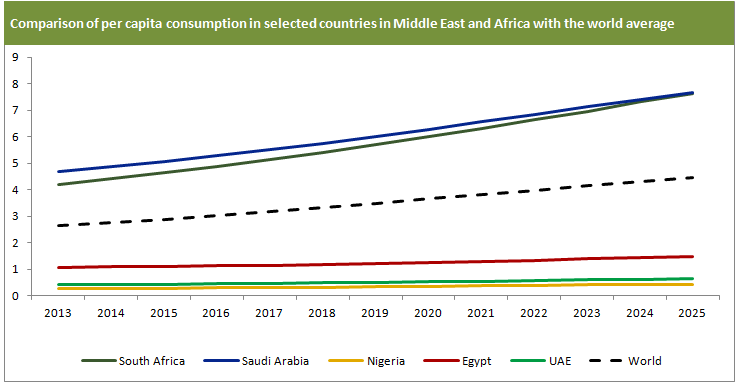 Currently, the top ten countries are taking into account more than half of the regional demand. However, per capita consumption of flexible plastic packaging in these top countries is far below the average consumption in developed countries, and some cases below the average global consumption. This opens a wide range of opportunities for both regional and international packaging companies to explore the market.
However, despite this huge potential and expected staggering growth in demand, the region's share in the global flexible plastic packaging demand will slightly edge up to just 6.5% by 2025.
Would you like more detailed information about this topic or any of our others, please contact us at info@commodityinside.com.