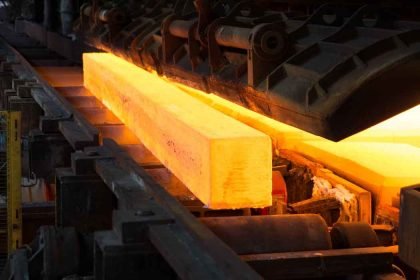 The US steel industry has seen some robust growth recently owing to 25% duties imposed last year by Trump administration. This has improved the financial position of steel producers. Nucor Corp, a major US steel producer, announced its net earnings of $383 million for the 4th quarter of 2018 with a 300% rise compared to the same period in 2017. The company also reported a 23% rise in average sale price per tonne on a year-on-year basis. It earned an annual profit of $1.32 billion in 2018, its highest profit since 2008.
US Steel Corp. announced 2018 net earnings of $957 million, up by 147% from 2017 net profit of $387 million. The company's net sales in 2018 reached $14.18 billion $12.25 billion in 2017. Similar trends have been registered in other steel companies in the US.
Meanwhile, steel imports declined by 11% during the first ten months of 2018 compared to the same period in 2017.
With falling imports and improving mills financial conditions, we have seen a raft of announcements regarding steel capacity expansions. For instance, Nucor Steel has announced its plan to increase Gallatin plant capacity from 1.6 million tonnes to 3 million tons annually. US Steel Corp. also announced to double the company's hot rolled steel capacity to 3.3 million tonnes/year with the investment of $750 million. It is estimated that around 50 announcements were made related to new plants, reopening and investments in 2018, and so far, the majority of them have materialised.
One of the aims behind steel tariffs to increase employment in the steel industry. However, new hirings in the steel industry remained stagnant since the imposition of tariffs, even after the restarting of several idle plants. This probably has mainly to do with the automation in the production processes which require less labour.
On the other hand, end users have started suffering from tariffs, which left some long term repercussions for the automotive sector. For instance, Harley-Davidson announced to shift its production out of the US to better target the EU market.
Commodity inside assesses that both semi-finished and finished steel prices which reached zenith soon after the impositions of tariffs are now out of steam and falling. Steel prices have still not settled at a new equilibrium, which is expected to be further lower. It is highly likely that the US steel industry would not see robust growth in steel prices as well as demand for domestic steel materials as seen in 2018.
A new equilibrium in the US steel industry has yet to be determined in the post-tariffs period. Tariffs have already played its role, and now it is the dynamics in the domestic market to maintain market growth. However, the potential auto tariffs war, as well as the overall domestic end use sectors conditions, indicate a relatively slow growth in the US steel industry for 2019. In retrospect, the steel industry has become unpredictable since driven by non-market forces, so any new announcements from the White House can easily distort the market equilibrium.