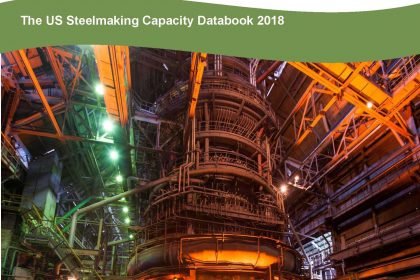 Commodity Inside has profiled steel capacity of 183 US steel works by the following equipment:

Blast furnace
DRI
BOF
EAF
Others
Total liquid Steel
Slab
Billet
Bloom
Total semi-finished steel
Rebar
Wire rod
Merchant bar
Sections
Rails
Total long products
Plate
Hot-rolled Coil
Cold-rolled Coil
Total flat products
Tinplate
Electro galvanised/Hot-dip galvanised
Colour Coating
Total coated products
The companies by ownership covered in the databook are:
AB Steel Mill
Acciaierie Valbruna
Acerinox Group
AK Steel & Worthington Steel
AK Steel Holding
Allegheny Technologies Incorporated
Alton Steel
ArcelorMittal
ArcelorMittal, Nippon Steel & Sumitomo Metal
ArcelorMittal & United States Steel
Atlas Steel Products
Bayou Steel Corporation
Black Diamond Capital Management
BlueScope Steel
BlueScope Steel, & Nippon Steel & Sumitomo Metals Corporation
California Steel Industries
Carpenter Technology Corporation
Cascade Steel Rolling Mills
Charter Steel
CMC Mills
CSN
D'Orazio Capital Partners
Ellwood Group
Esmark Steel Group & TCC Steel
Essar Global
Evraz Group
Franklin Industries
G.O. Carlson
Gerdau & Arcelormittal
Gerdau Group
Gibraltar Industries
Greer Steel
Hanna Steel
Jersey Shore Steel Co
JSW
Jupiter Aluminium
Kentucky Electric Steel
Keystone Steel & Wire
Kobe Steel & United States Steel
Leggett & Platt Incorporated
Letourneau Technologies Inc
Material Science Corporation (MSC)
Metal Coaters
National Galvanizing, L.P
Nelsen Steel & Wire Co. Inc
Nippon Steel & Sumitomo Metal Corporation (Nssmc) & Yamato Kogyo Co., Ltd.
NLMK
North American Hoganas Inc
Nucor
Optima Specialty Steel
PMX Industries Inc.
Precision Galvanizing Services
Precoat Metals
Republic Engineered Products
Schaeffer Industries
Schmolz Bickenbach Group
Sequa Corporation
SSAB
Standard Steel
Steel Dynamics Incorporation
Talley Metals Technology Inc.
The Timken Company
United States Steel
Universal Stainless & Alloy Products
USS & Posco
Wheeling-Nisshin, Incorporation
Worthington Steel
Please visit to learn more about our this new published product "The US Steelmaking Capacity Databook 2018".