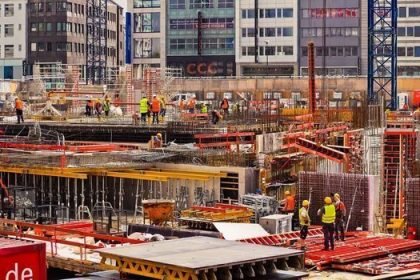 Long steel- an Introduction 
The term long steel refers to the products made from billets and blooms, which are mainly used in the construction sector. Usually, they are made through EAF furnaces. Long steel products include rebar, wire rod, merchant bars, rails and sections.
Rebar is also known as debar, ribbed steel and concrete reinforcing steel. Rebar is a hot-rolled product with deformation patterns and sometimes mechanically treated for extra strength known as thermo-mechanically treated bars or TMT. Rebar is used in the construction & infrastructure sectors to reinforce concrete.
Wire rods are small diameter rods in the form of coils. They are hot rolled and some of them also cold drawn. Different types of steel wires are used in various applications like fences, fasteners, hardware tools, tyre reinforcements etc.
Merchant bars are the long steel of specific lengths with different types of cross-sections like round, L angle shapes, U shape, T shapes and others. They are used in the fabrication of various steel products. Merchant bars consist of channels, angles, bright bright bars, etc. 
Rail steel is used to make railway tracks for passenger and freight railways. Rails are also used in other sectors such as mining.
Light, medium, heavy and jumbo sections are used as supporting materials like column and beams in construction and steel structures. These columns can be in different cross-sections like H-beam, I-beam etc
Specifications and Grading:
ASTM A615 is used to standardise rebar in the steel industry. Rebar is commonly available in the market with the grades indicating their strengths like Grade 40, Grade 60, Grade 75 and Grade 80. To elaborate more on the grading, for instance, grade 40 indicates the carbon steel rebar with a yield strength of 40k pound per square inch (psi) under normal conditions.
ASTM A501 represents a wire rod made from carbon steel. Mostly AISI specifications are used in the market for wire rod. Few of these include AISI 1045, AISI 1049, AISI 1053, AISI 1059, AISI 1055, AISI 1070, and AISI 1069.
ASTM A1 is used to standardise the rail steel. For rail steel, some of the common grade designations include 900A, 900B, R220, R260, R260Mn, R350HT, R350LHT, R370CrHT, 1080HH. Some regional standards are also used to standardise dimensions for rails. For instance, the American Railway Engineering and Maintenance-of-Way Association (AREMA) dimensions standards include AREMA 115 RE, AREMA 136 RE and AREMA 141 RE. Other major regional dimensions specifications include AS (Australian Standard), EN (European Norm), UIC (International Union of Railway), IRS (Indian Railway Standard), JIS (Japanese Industrial Standards).
ASTM A6 is used for steel sections or structural steel. In American specifications, a widely used section is a wide-flange (W) shape steel beams with parallel flange surfaces. Furthermore, in designation 'S' flanges surfaces are not parallel. While HP is used for H beams. M is used for miscellaneous sections and cannot be classified as standards I-beam. C used for C shaped channels, and L is used for angles specifications.
Some Selected Long Steel Producers:
Local and foreign demand plays an essential role in the development of value-added and manufacturing industries. The government incentives, regional regulatory and trade frameworks such as trade duties also play a major role along in the development of manufacturing industry. Below are some of the selected long steel producers in various regions.
ArcelorMittal

Baowu Steel

Emirates Steel Industries Co.

Erdemir Iron and Steel

Ezz Steel

Habas Corp

Hesteel Group

Hyundai Steel

Metinvest

National Iranian Steel Company (NISCO)

Nippon Steel & Sumitomo Metal Corporation

Nucor

Qatar Steel

Saudi Basic Industries Corp (SABIC)

Steel Authority of India

Tata Steel

Ternium
Capacity Developments:
Some selected recent steel capacity developments in the long steel industry are as follows:
SteelAsia in the Philippines is constructing new 800k tonnes rebar mill while two more planned.

PT Gunung Raja Paksi, an Indonesian steel producer, is going to install a new light section mill of 500k tonnes capacity.

Kyoei Steel, a major Japanese rebar producer cancelled its expansion plan in Vietnam.

SAIL, the Indian state-run steel producer, has started production in new universal rail mill (URM).

In China, dozens of long steel companies announced new capacity additions.

Given the limited size of the rail industry, only Iran installed rail capacity in recent years. In 2016, ESCO became the first rail producer in Iran. Meanwhile, Evraz North America and India's SAIL has plans to install rail capacity.
Long Steel Market:
Long steel products are mainly driven by the construction and infrastructure sectors. China, the US and India are some major players in the global construction market. The global construction share in GDP is expected to reach around 15% by 2030.
Urbanisation is one of the key factors supporting construction activities. In China, the urban population is expected to reach 300 million in the next decade. Urbanisation in South and South-East Asia is also on the rise. These markets, along with the other emerging markets, require substantial infrastructure and construction investment in the next decade, which will provide opportunities for rebar, wire rods, rails and sections.
In the Middle East, Saudi Arabia is the leading player in the construction sector. We expect that Saudi Vision 2030 will attract significant investment in the building and construction market. It is assessed that around $1.2 trillion construction projects were lined up at the pre-execution stage in 2018. UAE, Egypt and Kuwait also remained some other notable construction markets in the region.
In the automotive industry, some of the long products such as merchant bars and some special sections are used in body structures whereas wire rode is used in tyres. The automotive industry is going through some structural changes owing to changing demand dynamics, energy regulations, alternative materials, and low-profit margins. Auto production has also been relocating to new emerging markets due to demand and stringent regulations in matured markets. Africa is also emerging an ideal market for auto plants with various OEMs planned or started their investment projects in the region. We expect that the changing automotive landscape would have some implications for the long steel market in the long term.
Rails market is almost dominated by railways. The steel rail market size is small, and it usually remains stable. New railway lines along with maintenance and replacement are underpinning demand for rail steel. OBOR is a major Chinese initiative which is particularly stimulating demand for rail in South Asia, South East Asia and Africa.
Long Steel prices:
Long seel prices are mainly driven by scrap prices as well as construction activities. However, the spread between long steel prices and scrap in local markets can be influenced by imported billets. Merchant billets are normally used as a feedstock in many key countries. Meltshops usually decide on conversion rates to assess what route to choose. Chinese billets which commonly makes its way as around bars or boron added steel flooded the neighbouring countries.  However, the quality of some billets, particularly from some Chinese mills, is extremely low which result in low-quality rebar. 
Long Steel Applications:
Rebar is mainly used as concrete reinforcements in structures and provide additional strength in tensile form. Wire rod is used in a vast number of applications. In building and construction, wire rod is used in fences across the world. It is also used as reinforcement in intricate concrete structures, wire ropes for bridges and structures, steel reinforcement for prestressed concrete beams of bridges.
Demand drivers for wire rod and merchant bar are relatively more diversified due to its long list of applications including construction, hardware manufacturing, machinery, automotive etc. In the automotive industry, it is used in the components such as springs, spokes, spring washer, seat spring, clutch and brake pedal wires. Tire cord is another major application of steel wire rod in the automotive industry.
A major application of wire rod in the electrical power industry is its use as steel reinforcement for transmission cables. It is also used for manufacturing of hardware, for instance, barbed wires, nails and screws, feed wire for welding and fasteners. Other applications of wire rod include garment hangers, furniture, kitchenware, plate racks and paper clips.
Merchant bar applications are also wide-ranging. In the construction sector, some of its applications are industrial and commercial sheds fabrication, metal walkways, windows and door frames, bridge building and offshore platforms. In the automotive industry, merchant bar finds its applications in car axle, trailers and other heavy equipment. In machinery, it is used in mining equipment and machines, propeller shaft and towers. Other applications of merchant bars include racks, furniture frames, stores racking, kitchenware, stoves, tents pegs and in hardware.
Rails are used for making railway tracks, urban tram tracks, rail crane tracks, tracks used for rolling machinery, oil and gas and mining sectors.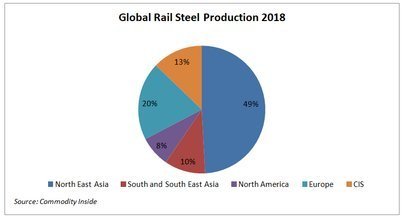 Light and heavy sections are mainly used in construction, infrastructure and machinery sectors. Its applications include structures of architectural frames in building, trucks and buses bodies, train coaches, racking, indoor farming sheds, containers frame, motor holders in machines, conveyer belt bases, ships doors, structures, offshore energy platforms, constructional beams and columns, heavy frames in machines heavy vehicles and mining equipment.
About Commodity Inside Long Steel Capabilities:
Commodity Inside has a vast experience in the long steel market. We have a number of off the shelf reports on the long steel industry. In addition to market reports, we provide consulting and bespoke studies as well. Our initial scoping assessment is free of costs. So why not explore this excellent opportunity now by visiting our steel market consulting section.
Would you want to explore this topic or any other research areas further, please contact us for FREE Consultations at Research@commodityinside.com