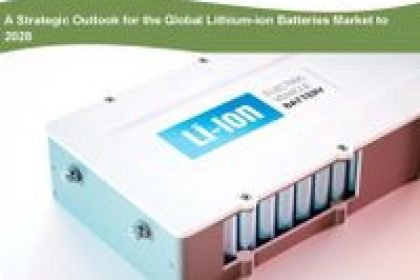 Electric vehicles have not just been revolutionising the automotive sector, but it is also reshaping the energy and materials sectors. One of the key components of the smooth running of electric vehicles is the rechargeable battery. So far lithium-ion battery has emerged the main beneficiary from this new trend. Li-ion batteries have been in use for decades in numerous applications such as consumer electronics, aerospace, defence healthcare, and industrial applications. However, its growth has been stepping up since the adoption of electric vehicles and other major disruptors such green energy and the upcoming autonomous vehicle technology.
There is a huge potential for demand growth for lithium-ion batteries in the coming years on the back of disruptive technologies and renewed growth in the existing sectors. Commodity Inside anticipates that the lithium-ion batteries market is set to increase from $25 billion in 2017 to $78 billion in 2028, at a compound annual growth rate (CAGR) of 10.7% from 2017 to 2028. Meanwhile,the average cost of a lithium-ion battery pack is set to decline from $185/kWh in 2017 to around $80/kWh in 2028.
However, the market can also to be hindered by volatility in battery raw material prices. Lithium prices remained elevated recently followed by a price hike in transition metal- cobalt. Commodity Inside understands that R&D and innovations will indeed help the Li-ion batteries to become more safe and efficient for end users. However, there is also a threat of emergence of alternative battery chemistry which can cannibalise the market.
This article is based on our recently publish report "A Strategic Outlook for the Global Lithium-ion Batteries Market to 2028".